VOTING IS CLOSED FOR NOW. UPDATE ON VOTING TO TAKE PLACE FRIDAY HERE.
Welcome to the final round of voting in the Sellsword Summer Mapping Contest!
The people have spoken! 37 maps were entered by artists from around the world (12 different countries represented!). Over 400 votes were cast in round one, and now only 3 remain.
In this round I have decided to include the names of the artists, where they are from, and (optionally) a link or contact information. I'll also leave some brief comments about what I appreciate about each. Now without further ado, I give you . . .
1. The Top 3 Maps
Here are the 3 maps that received the most votes. (Ordered by map number, not by votes)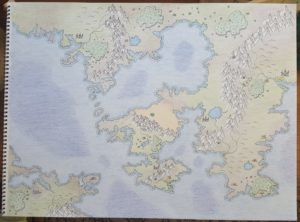 Map #1 | Tory Jones | New York, USA
Clean lines, a soft and skilled touch of color, detailed settlements, and beautifully sharp jagged peaks. It all comes together so nicely, and it just works.  -Nate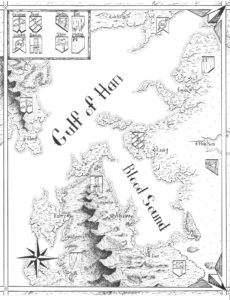 Map #9 | Richard Evans | Charlotte, North Carolina, USA
When I really zoom in this map blows my mind. The extremely detailed linework gives the landscape a rich texture, and the various banners are a great touch.  -Nate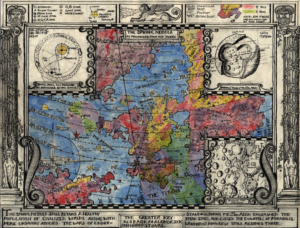 Map #29 | JB Montney | Michigan, USA | http://commonwealthheritagegroup.com/
This map takes my initial coastline and puts in space! Need I say more? Yes, I do. Vibrant color, an incredibly detailed border, and that name: "Sphinx Nebula". Come on.    -Nate
2. Voting
Here's a link to the ballot.  You'll vote for only one. Make sure you hit submit at the bottom!
Thanks for taking the time to vote! I'd also love it if you could call out your favorite and why you voted for it in the comments below.
3. The Prizes
The three winners here will all get prizes. The map receiving the most votes will choose first, second place will choose next, and third place gets what's left.
4. What's next?
The winner will be announced this coming FRIDAY night at 9 pm EDT via a live broadcast on my YouTube channel (WASD20). Note that this was originally going to be Thursday. Here is a link to the YouTube live event: The Sellsword Summer Mapping Contest Finale.
I'll also take the time to reveal all the artists in the contest, so we can show them a little more love and appreciation for their incredible work.
Thanks for all your participation in the voting thus far, and stay tuned!